Bag and sleeve type filters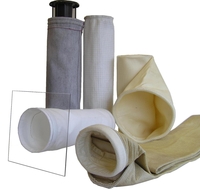 We produce our filter bags using the state-of-the-art, computer-controlled manufacturing technology, perfect for all types of dedusting systems (pulse-jet, reverse air or shaker systems).
Through the selection of high-quality technological fabric and needle felt with different surface finishes and special treatments, our filter bags enjoy long service lives with optimum filtration performance, low pressure drop and the best regeneration characteristics.
Examples of our manufacturing technologies/designs include:
• 3-stitch sewn or thermal-welded longitudinal seam
• seam sealing
• sewn on or thermal-welded stiffening rings
• snap ring with double-beaded gasket or felt seal suitable for all diameters and thicknesses of tube sheets
• Cuff with sewn in iron ring (copper-plated), various stainless steels (1.4301, 1.4401, 1.4501) or aluminium
• Cuff with sewn in cords or silicone rings
• Bottom reinforcements as wear protection in various designs
• miscellaneous hanging assemblies for filter bags
• and much more
Some applications of sleeve and bag type filters are:
• Wood processing and furniture industry
• Cement industry
• Chemical industry
• Fertilizers
• Glass
• Textile industry
• Food and forage processing
• Grain and flour
• Asphalt mixing plants
• Loose material packing
• Metal processing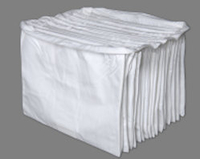 We manufacture multi-filter pockets from selected technological fabric and needle felt with various surface finishes and special treatments suitable for the different models of system on the market.
You don't know the manufacturer of your filtration system? No problem! We also manufacture to drawing or sample! Simply ask us about this, we will be pleased to assist you.
We also have appropriate multi pocket inserts with edge protection in our product range.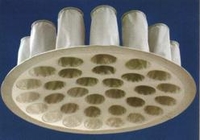 Exhaust air filters are developed in close cooperation with our customers. Our many years of experience, the careful selection of material and professional processing produce a product in original equipment manufacturer quality. Our special qualities have proven itself over many years.
The many different dimensions and designs are customised to the various applications in accordance with the special requests of our customers from the pharmaceutical, chemical, food and beverage industries.